InSight : le sol martien se refuse à la taupe de HP3
financesacademy, 6 months ago
0
2 min

read
33
La sonde américaine InSight est arrivée sur la planète Mars fin novembre 2018 pour déployer au sol le sismomètre SEIS (Seismic Experiment for Interior Structure) et le capteur de flux de chaleur HP3 (Heat Flow and Physical Properties Package).
Si le sismomètre français fonctionne comme attendu, cela a été plus compliqué pour l'instrument allemand HP3 qui devait enfoncer des thermomètres jusqu'à 5 mètres de profondeur afin de permettre d'évaluer la vitesse de refroidissement de Mars.
L'instrument HP3 utilise un dispositif de taupe mécanique autonome pour s'enfoncer, mais cette taupe a rencontré des difficultés pour une pénétration du sol ne serait-ce que de quelques centimètres. Après des tentatives pendant près de deux ans, la Nasa capitule.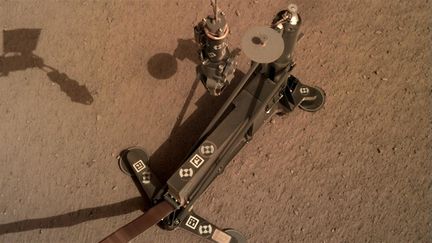 La tête de la taupe s'est enfoncée de 2 à 3 centimètres sous la surface. L'ultime tentative le 9 janvier a échoué à obtenir mieux, malgré l'aide d'une pelle sur le bras robotisé pour tasser le sol et augmenter la friction, et 500 percussions avec le dispositif électromécanique pour une pénétration par à-coup.
" Nous avons tout donné, mais Mars et notre taupe héroïque restent incompatibles ", a déclaré Tilman Spohn de l'Agence spatiale allemande et responsable scientifique de l'instrument HP3. " Heureusement, nous avons appris beaucoup de choses qui profiteront aux futures missions qui tenteront de creuser le sous-sol. "
One phase ends, and another begins…

Last weekend, the mole made a final attempt to dig farther underground on Mars. Even with all the steps we've taken to #SaveTheMole, it seems there's just not enough friction in this soil to keep it moving downward. (1/4) pic.twitter.com/ZevtiAvS36

— NASA InSight (@NASAInSight) January 14, 2021
Dans le cadre de sa mission prolongée, InSight va passer les deux prochaines années à écouter d'autres séismes sur Mars. Pour un résultat optimal et le plus clair possible, le câble reliant l'instrument SEIS à InSight sera enterré.
Related posts