Internet par satellite : OneWeb lance 36 satellites avec Soyouz et Arianespace
financesacademy, 4 months ago
0
2 min

read
95
Depuis le cosmodrome de Vostchny en Russie, une fusée Soyouz opérée par Arianespace a décollé aujourd'hui à 02h47 UTC avec à bord une charge utile d'une masse de 5,8 tonnes.
À l'issue d'une mission d'une durée d'un peu moins de quatre heures et neuf séparations, 36 satellites de télécommunications OneWeb ont été placés sur orbite terrestre basse à 450 km d'altitude.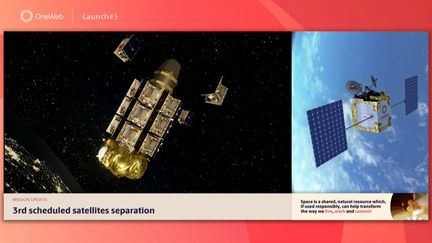 OneWeb a confirmé l'acquisition du signal pour tous les satellites et dispose désormais d'un total de 146 satellites en orbite. L'objectif affiché est une constellation de 648 satellites de 150 kg en orbite terrestre basse à 1200 km. Une orbite que les satellites rejoignent par leurs propres moyens de propulsion.
? While you were sleeping: 36 of our satellites were launched, putting a total of 146 satellites in orbit for OneWeb's constellation. Congrats to all the teams who supported this amazing effort! https://t.co/X9AuZAPTYT

— OneWeb Satellites (@OneWebSatellit1) March 25, 2021
Le lancement d'aujourd'hui était le deuxième depuis la reprise de l'opéateur OneWeb par un partenariat public-privé comprenant l'État britannique et le groupe indien Bharti. Le prochain lancement est prévu pour la fin du mois d'avril.
Un lancement pour OneWeb, quatre dans le mois pour Starlink
OneWeb veut fournir un accès à internet à haut débit et faible latence " à tous, partout dans le monde ", et pour couvrir les besoins de divers secteurs. La constellation OneWeb permettra avec des terminaux compatibles un débit d'environ 50 Mbps avec une couverture 3G, LTE, 5G et Wi-Fi.
Avec mise en service, une couverture pour le Royaume-Uni, l'Alaska, l'Europe du Nord, le Groenland, l'Islande, les mers arctiques et le Canada est évoquée par OneWeb avant la fin de cette année. Une disponibilité mondiale est ensuite prévue en 2022.
Au cours de ce seul mois de mars, SpaceX a procédé pour sa constellation de satellites Starlink chère à Elon Musk à quatre lancements pour le déploiement d'un total de 240 nouveaux satellites (d'une masse unitaire de 260 kg). Une constellation Starlink qui compte désormais 1 321 satellites en orbite…
Related posts